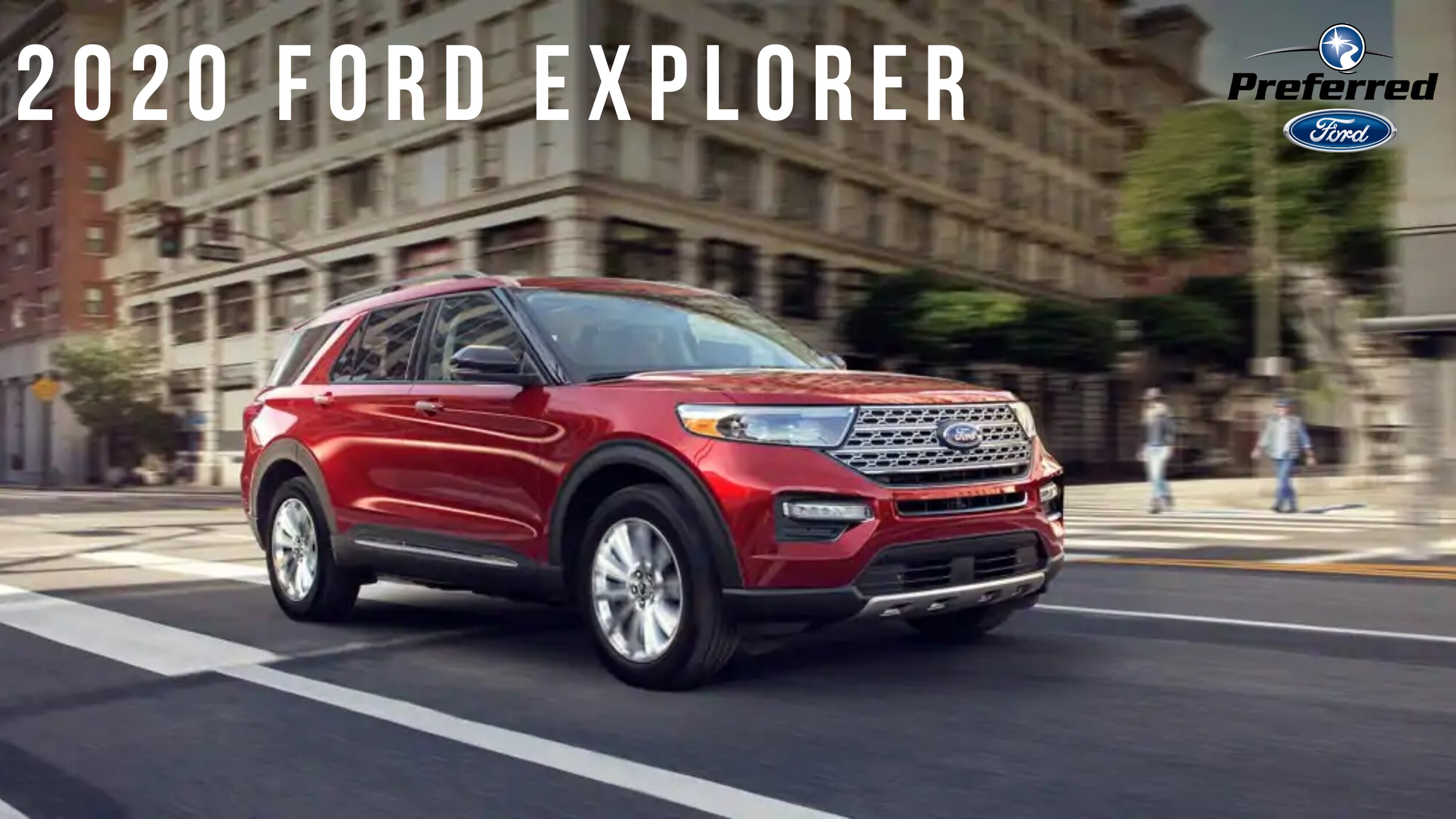 This sixth-generation SUV switches to a completely new unibody platform with a longitudinally mounted engine and a rear-wheel-drive bias. While this new architecture serves to make the base Explorer more comfortable and pleasant to drive, in the case of the ST it gives this large three-row SUV solid performance credit.
Back in the 2018 model year, there was a sense big things were coming for new Ford SUVs. That's because the 2018 model year brought us debuting and all-new Ford SUVs that completely and utterly blew us away here at Preferred Ford in Grand Haven MI. Ford then followed that up with even more all-new SUVs during the 2019 model year - a group that also included the first-ever Ford SUV engineered and built by the Ford Performance Team. And now, as we look to the 2020 model year, we see there are even more all-new Ford SUVs to be excited about, including the all-new 2020 Ford Explorer lineup.
Now, the Ford Explorer has been at the top of its class for so long that you may think there's nothing else it can do to get better - but you'd be wrong, and the 2020 Explorer lineup and its two all-new trim levels are all the evidence needed to prove that point. That's because the two all-new 2020 Explorer trim levels include an all-new first-of-its-kind 2020 Explorer Hybrid and an all-new 2020 Explorer ST, which is the second Ford SUV engineered and built by the Ford Performance Team. Add those all-new trim levels to an impressive redesign and a full slate of best-in-class features and capabilities, and you've got a new Ford Explorer lineup set to pull even further away from its competition.
If you'd like to receive more information on the 2020 Ford Explorer lineup, please reach out to our staff here at Preferred Ford in Grand Haven MI. 
Specifications
2020 Ford Explorer ST
VEHICLE TYPE
front-engine, all-wheel-drive, 6- or 7-passenger, 4-door hatchback
BASE PRICE
$55,835
ENGINE TYPE
twin-turbocharged and intercooled DOHC 24-valve V-6, iron-and-aluminum block and aluminum heads, direct fuel injection
Displacement
180 cu in, 2956 cc
Power
400 hp @ 5500 rpm
Torque
415 lb-ft @ 3500 rpm
TRANSMISSION
10-speed automatic with manual shifting mode
DIMENSIONS
Wheelbase: 119.1 in
Length: 199.3 in
Width: 78.9 in
Height: 70.2 in
Passenger volume: 156 cu ft
Cargo volume: 18 cu ft
Curb weight (C/D est): 4750 lb
PERFORMANCE (C/D EST)
Zero to 60 mph: 5.0 sec
Zero to 100 mph: 13.3 sec
Standing ¼-mile: 13.6 sec
Top speed: 143 mph
EPA FUEL ECONOMY (C/D EST)
Combined/city/highway: 19/17/23 mpg
 WHY BUY FROM US?

We give you 4 great reasons: